Protein-rich, nourishing!
Protein Shake | Pineapple, Maca, Flaxseed
Vegan protein shake with pineapple, maca and flax seeds

✔ 100% ORGANIC & VEGAN
✔ no added sugar or preservatives
✔ with valuable plant ingredients
✔ Can be stored unrefrigerated for up to 6 months
Delivery within 1-3 working days. Collection also possible at the Purora Store Raab .

Pure cell power for strengthening and regeneration
Ingredients & Nutritional Values
When I held the ThermóTwist from Purora in my hands for the first time, I was spontaneously excited about the possibilities that this multifunctional high-performance mixer offers. Within minutes I had created my first Purora dish.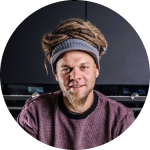 Free test now!
Our advantage packages with ThermóTwist
ThermóTwist 
A ready-to-mix premium meal in just 3 minutes
The new ThermóTwist mixes and tempers meals directly in the portion glass in under 3 minutes. He prepares delicious smoothie bowls, soups, porridge and much more stress-free and gently. Raw food can be heated to 42°C at the push of a button. This means that vitamins and vital substances are optimally absorbed by the body and the full taste can develop.
Free test now