ORGANIC fruit powder topping package
3x ORGANIC SUPERFOOD TOPPINGS for your EXTRA taste
Our ORGANIC FRUIT POWDER MIXES bring subtle sweetness and even more superfoods to your food.
Perfect as a topping on smoothie bowls, porridge, as a special touch in salad dressing, on cakes, actually on anything you want to sweeten effectively.
100% ORGANIC

100% vegan

PLUS: natural magnesium & calcium

Made in Austria
The fruit powder topping package contains:
ORGANIC fruit powder topping | Coconut, Matcha, Guarana

ORGANIC fruit powder topping | Mango, pineapple, maca

ORGANIC fruit powder topping | Chocolate, banana, camu camu
We enrich our fruit powder mixtures with natural dolomite rock . This consists of 55% calcium carbonate and 45% magnesium carbonate.
Calcium is an essential mineral and is particularly important for the health of bones and teeth.
Magnesium is also an essential mineral that supports normal muscle and nervous system function and may reduce fatigue and tiredness.
Montag, 06. Nov. (1 bis 3 Werktage)

More information about the active ingredients...?
When I held the ThermóTwist from Purora in my hands for the first time, I was spontaneously excited about the possibilities that this multifunctional high-performance mixer offers. Within minutes I had created my first Purora dish.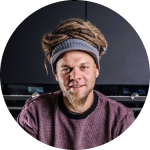 Free test now!
Our advantage packages with ThermóTwist
ThermóTwist 
A ready-to-mix premium meal in just 3 minutes
The new ThermóTwist mixes and tempers meals directly in the portion glass in under 3 minutes. He prepares delicious smoothie bowls, soups, porridge and much more stress-free and gently. Raw food can be heated to 42°C at the push of a button. This means that vitamins and vital substances are optimally absorbed by the body and the full taste can develop.