5-day cure | Relax & enjoy
Would you like more well-being?
Cure does not mean doing without – it means enjoying! In just 5 days you can now increase your well-being, cleanse the digestive system and increase your vitality. The Purora "Relax & Enjoy" treatment with 12 delicious smoothies, soups and porridge mixtures in combination with the Purora Cleanse herbal elixir and a healthy diet can have a very positive effect on the organism. Our smoothies and soups from the FRESH line contain over 40 organically fresh ingredients as well as superfoods and are 100% made in Austria. Purora tastes delicious and has a unique effect!
Change for the better:
reduction in body weight.

Relief and cleansing of the body.
Strengthening

and revitalization of the organism.

improvement

in sleep quality.

Harmonization

of bodily functions.

Strengthening

of the mind and willpower.
Please note the following tips during the treatment:
Drink at least 3 liters a day, preferably warm water, unsweetened herbal teas, ginger tea, Purora herbal elixirs, green tea (in the morning).
If losing weight is not your main goal, you can snack on the following in small portions: steamed or fermented vegetables, fruit, sprouts, oatmeal, spelt, millet and seeds. Important: eat slowly and chew thoroughly.
Avoid stress, do not overexert yourself during sports and avoid long sauna sessions.
A 10-20 minute workout in the morning gives you more energy.
IMPORTANT: If you sometimes feel listless and lacking in energy - this is completely normal and will pass.
You can go without coffee for the first three days
lead to headaches. Our tip: 3 ml Focus Elixir from Purora instead of coffee has a soothing effect.
Lieferung innerhalb von 1-3 Werktagen nach Österreich und Deutschland. Nur online verfügbar, Abholung ist nicht möglich.

Deine Tages Kur wird mit gekühlten Express Versand zu Dir nach Hause geliefert. Beobachte deshalb die Sendungsverfolgung und solltest Du bei der Lieferung nicht zu Hause sein, hole Dein Paket am besten noch am selben Tag in der Abholstelle ab. Stelle deine Puroras gleich in den Kühlschrank, damit die Kühlkette nicht unterbrochen wird.

Zudem werden unsere Tages Kuren immer nur dienstags produziert, um Dir frische Zutaten in höchstmöglicher Qualität bieten zu können. Deshalb kann die Lieferzeit auch mehr als 3 Werktage in Anspruch nehmen, sollte deine Bestellung nicht bis Montag (16:00) erfolgen.

Gekühlte Lagerung: 4 - 6°C
Mindestens haltbar: 17 Tage ab Herstellung
Jetzt kostenlos testen!
Unsere Vorteilspakete mit ThermóTwist
Als ich den ThermóTwist von Purora zum ersten Mal in den Händen hielt, war ich spontan begeistert von den Möglichkeiten, die dieser multifunktionale Hochleistungsmixer bietet. Innerhalb weniger Minuten hatte ich mein erstes Purora-Gericht kreiert.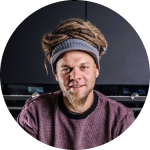 ThermóTwist 
In nur 3 Minuten zur mixfertigen Premium Mahlzeit
Der neue ThermóTwist mixt und temperiert Mahlzeiten direkt im Portionsglas in unter 3 Minuten. So bereitet er leckere Smoothie Bowls, Soups, Porridge und vieles mehr stressfrei und schonend zu. Rohkost kann per Knopfdruck auf 42°C erwärmt werden. Damit werden Vitamine und Vitalstoffe vom Körper optimal aufgenommen und der volle Geschmack kann sich entfalten.
Jetzt kostenlos testen