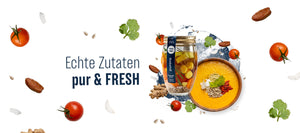 Uncooked – The Purora FRESH line
At Purora we love plants. And we love their active ingredients, too! That's why we do everything we can to ensure that they end up in the Purora glass. Preserving with herbal water, for example. That works!
For this purpose, we use 26 different herbs for months, according to ancient tradition, so that their active ingredients pass into the water. These not only extend the shelf life, but also stimulate the metabolism and promote the absorption of vital substances. We then place the fresh ingredients for our smoothies and soups in this water.
The result has it all!
✔️ Full active ingredient power with vitamin guarantee ✔️ Smoothie bowls and soups that fill you up ✔️ Made from real fruits and vegetables + superfoods ✔️ All 100% plant based - no artificial flavors or additives ✔️ Of course without added sugar ✔️ No preservatives
✔️ Unpasteurized
✔️ 100% organic & vegan
The Purora FRESH products are produced for you by hand after your order has been received and therefore arrive at your home really fresh. Without any preservatives or pasteurization. In this way we achieve a best-before date of 17 days from the production date.
Can I freeze my FRESH products?
It's not ideal, but if you find you can't eat your FRESH Puroras in time, freezing is a better option than throwing it away. Of course, the best thing would be to eat them up. Surely someone you know would be happy about a little healthy attention!
WE LET OUR CUSTOMERS SPEAK FOR US.