Tasty detoxification: how it works!
Detoxifying the body has a long tradition. Also known as detox for a number of years, the principles are still the same: the body's self-cleansing process is set in motion, which can have positive effects on the organism. Mentally, the focus should not be on renunciation, but on the self-perception of the body. We will show you how detoxification works as a detox cure with delicious food and what is important.
Detoxing gets your metabolism going
The basis of all vital processes in the body is metabolism. The biochemical processes in the cells - the metabolism - happen completely automatically: Nutrients are broken down, temporarily stored and built up into new products. However, some of the negative influences of the environment and nutrition remain as toxins even when the metabolism is functioning. The aim of detoxifying the body is therefore to activate the self-cleaning process in order to eliminate harmful substances.
What exactly happens when you detox?
Around five percent of the damaged body cells are broken down during a detoxification cure, making room for new cell material. The toxins stored in the fat and connective tissue are dissolved and excreted via the liver, lungs, skin, kidneys and intestines.
This is how detoxification works: what is important in your detox cure
The basis for a healthy organism is nutrition. This is radically changed in the course of a detoxification cure - also known as a detox cure - for a limited period of time. This cleanses the digestive system and gives the body more vitality and well-being.
Which detox is right for me?
Which detox cure is chosen is a matter of taste. In addition to the classic raw food, teas, soups or juices are particularly suitable for detoxification. The latter offer a good opportunity to make the detox tasteful. If these are additionally enriched with nutrients - for example with energetically warming and cooling plants such as nettle, dandelion, turmeric & co - they provide an extra portion of power.
Duration and possible course of a detox cure
Most detox cures are designed to last 6 to 14 days. While well-known food combining cures - such as the Mayr cure - are based on spelled bread rolls in the morning and food combining throughout the day, juice and soup cures rely on vitamin-rich recipes in smooth form. With purora, these are on the menu twice a day, which is supplemented with delicious recipes made from steamed vegetables and cooked whole grains.
Example: Purora Detox-Vital Pure / 12 days
Day 1 and 2: The first two days should prepare the body for the cure. So we start with a matcha smoothie with grapes and an earthy-nourishing celery-carrot-based soup, followed by a nutty-creamy apple-protein smoothie.
Day 3 to 10: These days are about cleansing the organism. The juicy, light vitality dominates here in the form of pear, green grapes and linseed, alternating with blueberries and beetroot.
Day 11 and 12: The last two days are used for the slow phasing out of the detox cure. It concludes with a nourishing vegetable tomato soup, earthy carrots and celery – also in soup form – and the matcha & grape smoothie.
We recommend eating a smoothie or soup in the morning and midday/afternoon slowly and chewing it well and for a long time. Taking a herbal elixir (Qi-Belly-Elixir from purora) before or after meals provides an additional nutrient boost. Half an hour before, during and after eating, no additional liquid should be taken. Between meals, we recommend eating breaks of at least 4 hours.
What a detox cure needs in addition to nutrition
Mindfulness, light exercise and enough sleep are the three components that make a detox cure complete. Everyone has their own personal energy and activity level. Therefore, there is no one-size-fits-all recipe for health and well-being. It is all the more important to know your own body well and to listen to its signals.
Tip: Observe your body before and during the detoxification and be aware that you will feel the changes in your organism in the form of a feeling of hunger, tiredness or an increase in energy and inner clarity.
In order to stay in the flow with yourself and your own body, you need movement. In yoga, for example, the cells are activated from within in a gentle yet invigorating way. This leads to a plus in vitality and an increase in well-being. A good night's sleep will then come naturally.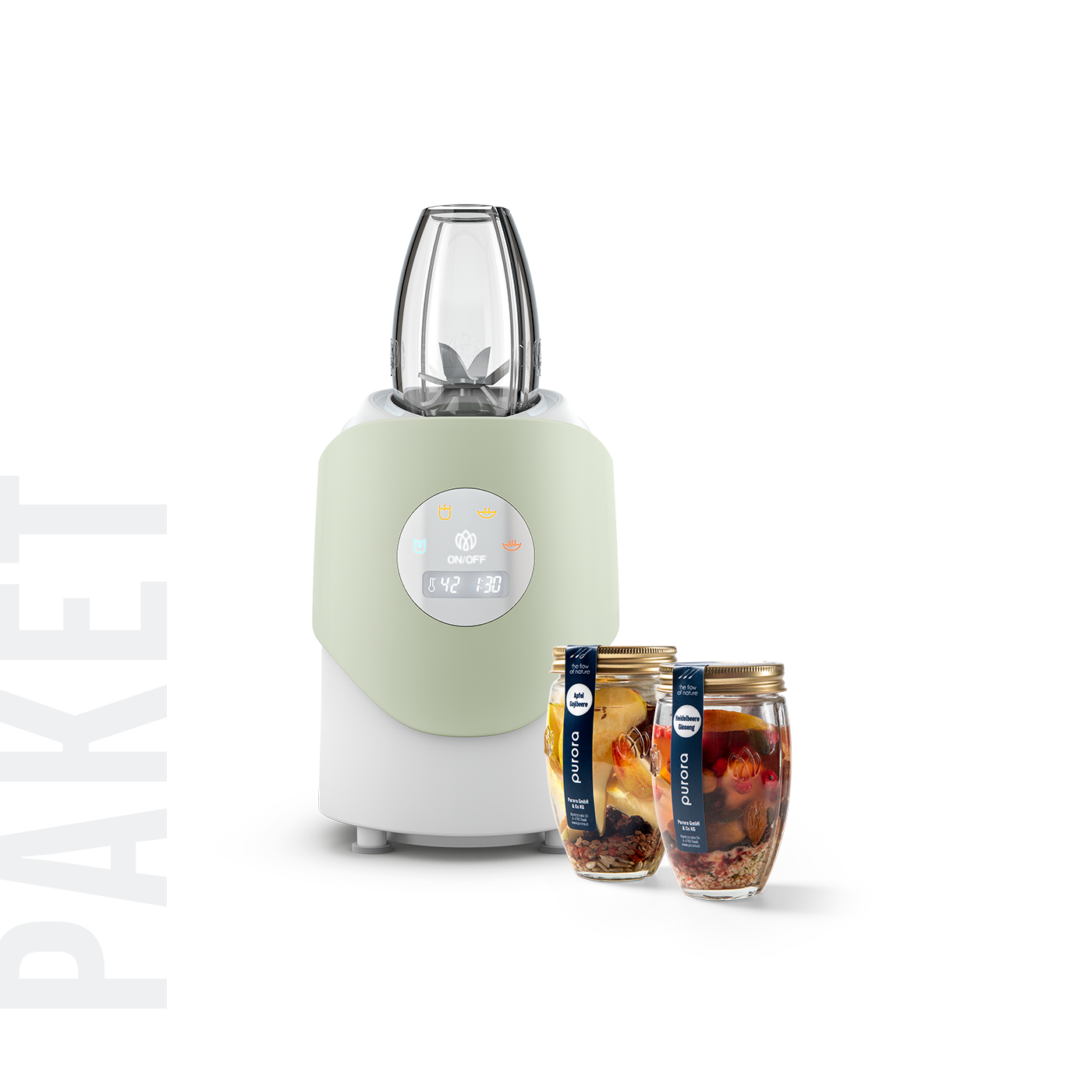 ---